Phone's place in Omnichannel communication
Phone service is one of the most classic and established forms of communication between the customer and the preferred business. Contemporary contact centers, however, are increasingly striving to provide their customers with a variety of channels to contact them - Email, Web Chat, Social Media, Viber and others, thus giving options to users to choose the most convenient way for them to reach out.
Where does the phone stand in this cocktail of communication channels?Both customers and businesses are unanimous in their answer to this question – the telephone is still the most preferred way of contact for service and support, as these surveys from various reliable sources clearly show.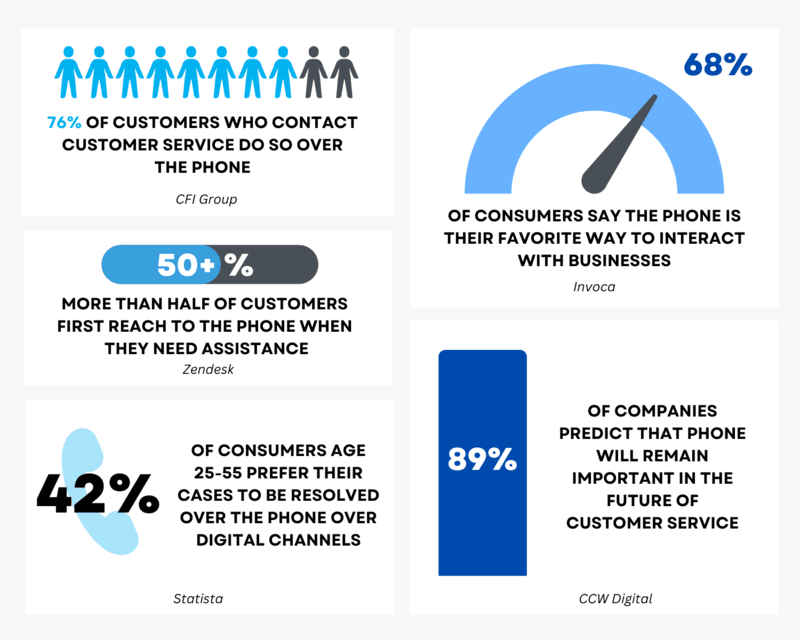 Phone service types
From direct contact with a contact center agent or company representative, through the increasingly popular interactive voice response system known as IVR, to the latest generation of technology such as AI (artificial intelligence), businesses offer different types of customer service over the phone.
On the one hand, these options are related to the customers' needs, contributing to their satisfaction and overall user experience, and on the other hand, they are tailored to factors such as human resources, costs and time.
The biggest balance between the two is achieved when a mixed type of telephone service is offered, such as that of banks, insurance companies and mobile operators.
And this is by no means accidental. According to Freshworks' Deconstructing Delight Report, as many as 61% of consumers prefer a combination of Self-Service and direct interaction with a business representative.
Below we will look at each of these three types of phone service separately, highlighting their advantages.
Phone service via a live agent connection
This type of contact with the relevant business or company is the most common and often preferred by consumers. In cases where the latter have a case to resolve and are looking for a competent support employee or when they intend to place a larger order, customers value the live connection because it gives them more confidence and plays a role in building trust in the brand . Talking to a real person on the other end of the line is a classic service method that will always be 'in style'.
These studies show what part of the consumers seek for direct contact with a company representative and the most common reasons what for:

What are the business benefits?
Making sales of greater value
First call resolutions
Enhancing customer satisfaction
Building brand trust
Upsell opportunities
Telephone "Self-Service" through Interactive Voice Response (IVR)
An interactive voice response (IVR) system enables human-computer interaction by dialing a tone signal from a telephone keypad. This technology is becoming more common among Helpdesk and Customer Service Centers, especially those that handle a high volume of calls, as well as those that offer 24/7 service. With Interactive Voice Response, 24/7 service is provided without the need for physical staff at all times.
IVR is becoming an increasingly preferred way of contact by consumers as well, mostly because it saves them time from waiting to be connected to a live operator. It's far easier and more convenient for customers to benefit from this technology when they want to check their phone bill, the business hours of a certain company, or inform themselves about a technical issue, for example. This contact option is also particularly suitable for cases where the customer wants to contact a specific department by contacting a national line.
These statistics demonstrate that the IVR benefits are mutual:

What are the business benefits?
Customer service 24/7
Saves human resources
Reduces costs
Handles multiple calls at once
Routes the call based on the customer's choice
Telephone service, with the help of AI (Artificial Intelligence)
AI or Artificial Intelligence is the hottest technology right now and the one with the biggest future, not just for customer service, but in general. AI-based systems use voice technology to interact with users, called NLU or Natural Language Usage. When contacting the business, the customer is talking to an artificial intelligence in the same way that they would talk to a physical agent or representative. Not only does AI provide answers to all questions asked in an accurate, relevant and efficient way, but it also does so in the same natural way that a conversation between two people flows. Some NLU voice response systems also have the ability to recognize the language the user is speaking and respond in the same, and even more advanced AI-based systems have the ability to "learn" during conversations and improve based on interactions with customers.
And since NLU is new, the researches about customer satisfaction with it are still limited. However, the forecasts are promising. Here are a few statistics about Artificial Intelligence as a futuristic technology that companies will and are already incorporating to reach a new level in customer service and business as a whole:

What are the business benefits?
Enhances customer engagement in an innovative way
Builds a modern corporate image
Improves user experience
Increases service speed
Saves costs and human
Phone service is here to stay. Or in other words: It will always be relevant in one form or another. For contact centers, it is priority No.1 in terms of Customer Service, with the types offered depending on its capacity and resources, as well as on the field of business.
Whether the customers want to talk to a real person about their cases, purchases and questions, or choose to save time by getting the information they need via IVR – the decision is entirely theirs. The important thing is that you offer them with all or at least more than one of the options discussed above.
The software solution for Call Center and Helpdesk InfoServ CRM works independently, accepting telephony both from an internal exchange and from a telephone provider chosen by the customer and has plenty of features for Inbound, Outbound and mixed Call Center, including IVR technology with different applications.
All of this you can see with your own eyes by requesting a free demonstration of the system HERE.