THE DEFINITION
You have probably come across both terms – Helpdesk and Service desk, on the Internet and generally in business, believing that they define the same thing. Such confusion is perfectly acceptable, as functionality-wise Helpdesk contains elements of Service Desk and vice versa.
In fact, according to the Information Technology Infrastructure Library (LTIL), one is simply synonymous with the other. It was not until its third version, released in 2007, that the differences between the two were finally clarified, namely: Service Desk is defined as a management component in the overall IT Service Management process, and Helpdesk – as a component of the Service Desk, focused mainly on the services provided to the end user.
A study conducted by HDI Connect in 2015 found that 36% of companies use the term Service Desk, and 23% Helpdesk when referring to their support centers.

It's time to differentiate these two terms by breaking down their functionality to give you a more detailed look and help you decide which of the two your business actually needs.
WHAT IS HELPDESK?
At its core, Helpdesk is focused mainly on meeting the needs of the end user. Its purpose is to manage and resolve cases, problems or requests for other services, serving as a bridge between customers and service professionals, helping the processes between them to run smoothly.
Helpdesk centers aim to resolve customer inquiries, cases and problems in the shortest possible time, minimizing processing time and resolution - ideally, at the first contact of the customer. Effective processing of requests and inquiries is essential for any company that offers this type of service.
The basic functionalities of the Helpdesk system are:
Automation – Automates most of the routine tasks in the ticketing system, especially when the tickets are similar in type, following certain "rules".
Multi-Channel Communication – Unites the correspondence coming from the main communication channels through integrated telephone, email и web chat.
Ticket Management – Automatically converts all customer inquiries into tickets and helps track their resolution by distributing the work among operators.
CRM Integration – Gives a 360-degree view of the customer profile, which contains all the information necessary for faster, more accurate and personalized responses.
Service Level Agreement (SLA) – Standardizes the quality of customer service and the offered services, following certain rules and policies of SLA.
Workflow Efficiency – Manages the assignment of tasks by the company managers and monitors their implementation, thus smoothing the entire work process.
WHAT IS SERVICE DESK?
It is defined as: "The main point of contact between the service provider and consumers". The classic Service Desk processes service requests and manages the so-called "incidents" - user inquiries related to a specific problem to be resolved. The management of the overall communication is also among its main functionalities. At its core, the Service Desk is an evolved form of Helpdesk, referring to the concept of "IT management as a service".
The Service Desk usually includes a range of Helpdesk features, though it is not limited by them. For example, it contains a ticketing system and self-service options, but may also include additional modules focused on solving specific problems that are not directly related to users, but are rather internal. They are designed to improve the business processes and management of the organization, as well as to contribute to the growth and development of the company.
Here are some of Service Desk 's main components:
Asset Management – gives a comprehensive view of the company's budget, costs and prices of services related to the IT department.
Incident Management – defines and tracks incidents related to business operations and allows their general consideration and resolution.
Problem Management – helps in finding the root problem when receiving similar complaints from consumers.
Change Management – allows in-house changes to be made in a systematic way and implementations to run smoothly.
Release Management – helps to even the transition when launching new software, hardware or making other IT-related changes.
WHAT ARE THE DIFFERENCES BETWEEN HELPDESK AND SERVICE DESK?
Although they share a lot in common, Helpdesk and Service Desk also have some distinctive differences. In general, the first is focused on the end user, and the second is business-oriented. While Helpdesk is designed to help resolve customer requests, inquiries, cases and problems, a Service Desk solution is focused on the needs of the business itself, namely internal processes, and aims to help optimize them.
Here are the main aspects to distinguish the two more easily: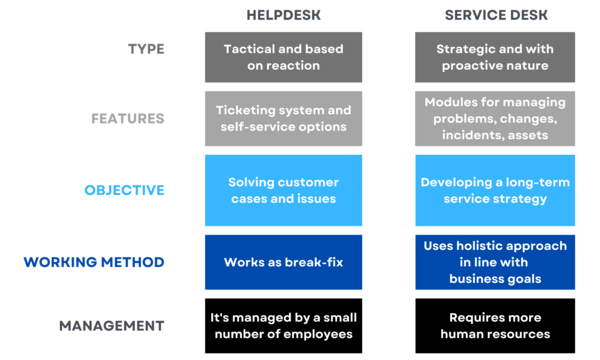 Helpdesk as part of Service Desk
Helpdesk can be considered as an element of the Service Desk, as the latter contains a wider range of functionalities, in addition to the ticketing system and the integration of business processes in the service management infrastructure.
Helpdesk are standalone solutions and Service Desk are integrated
Helpdesk is a stand-alone solution, which performs tasks related to the ticketing system, and has self-service functionality. Service Desk is a more complex software, including a richer set of IT management capabilities, as it is integrated with other IT service management processes, such as change management, release management, asset management, etc.
Helpdesk solutions are "reactive", and Service Desk – "proactive"
Helpdesk aims to respond immediately to end user's needs, as many are pre-configured as "break-fix" solutions, or in other words, to "open" a ticket for any user problem that needs to be fixed. Although Service Desk software can perform certain tasks that require a response, its main function is to ensure that IT processes in the company run smoothly.
HELPDESK OR SERVICE DESK – WHICH ONE DO YOU NEED?
In general, Helpdesk is a customer service solution and Service Desk is a solution for in-house company improvements. Although performing different functions, the two can coexist in an organization and work in sync.
The use of either or both solutions depends on the type and size of the company, the complexity and maturity of internal processes, as well as the overall needs of the business and its customers. If an organization does not need integrated IT services, it can choose a Helpdesk solution. However, if the company wants to provide more structured IT support, then Service Desk would be the better choice.
Definitions aside, the right customer service tool, whether it is a Helpdesk or a Service Desk, needs to be flexible enough to adapt to your specific business requirements and allow you to provide high quality customer service.
InfoServ CRM is exactly this kind a complex solution – thanks to its rich functionalities, ticketing system, integrated multichannel communication, numerous automations and integrated CRM that provides 360-degree view of the client profile it works successfully as Helpdesk, and for some processes as Service Desk.
Request a free demo of InfoServ CRM and see all the features it possesses to improve both your business internally and the services you offer.